---

Footstool Players in Singapore for "Performing the Sacred"
Five of the Players were in Singapore in August 2009 to attend a 3-day seminar by Christians in Theatre Arts (CITA) founder and director, Dale Savidge (3rd from left in photo). Entitled "Performing the Sacred: Working out your salvation in the theatre", the seminar was a great opportunity to learn from a respected mentor in the area of integrating theatre and spirituality, as well as to network with like-minded people in Singapore. We also did an impromptu performance of a couple of sketches from CLTCL for the seminar attendees – technically our first "international performance"! :)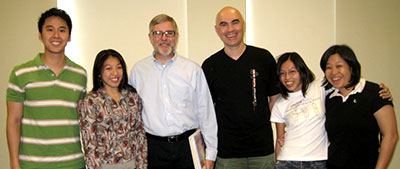 ---

CLTCL wins a Boh Cameronian Arts Award!
Our 2008 production of Crazy Little Thing Called Love was awarded Best Group Performance (Theatre) at the 9th Boh Cameronian Arts Awards in May 2009. It was already an honour to be nominated, but to actually win the award was surreal! We sat stunned in our seats for a moment when the winner was announced before making our way to the stage in a swirl of emotions!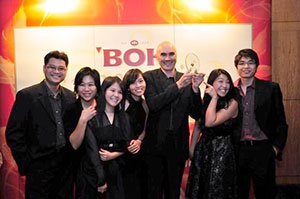 ---

Colin is Edmund Soo on 8TV's Ghost (Season 2)
Colin can be seen in the main cast of Season 2 of the hugely popular mystery thriller TV series Ghost, which began airing on 8TV on Sunday nights from 19 April 2009. Colin appears opposite Cheryl Samad, Anding Indrawani, Isma Hanum, Nazrudin Rahman and Melissa Campbell as prominent attorney Edmund Soo, whose socialite daughter is mysteriously kidnapped. The 13-episode season was shot between January and May 2009. You can watch back-episodes of Ghost 2 on "catch-up TV" at 8TV's website.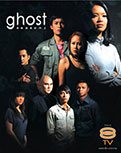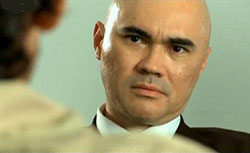 ---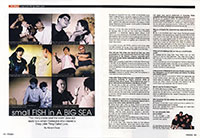 CLTCL directors interviewed for FACES magazine (April 2009)
Click on the image for the full article.








---

Linora appearing soon in indie feature film Belukar
After bagging a supporting role in the movie menipuLATE last year, Linora has just finished a month of shooting in Sabah for a supporting role in the upcoming independent movie Belukar, opposite Daphne Iking and Bront Palarae.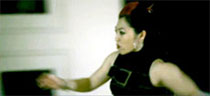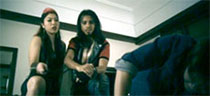 In the film, an action thriller, Lin plays a tough gangster girl named Gincu! For the role, Lin had to dye a red tuft of hair, speak in Sabah dialect and do her own stunts! You can catch a glimpse of Lin's performance in the Belukar trailer here. Belukar is scheduled for release in cinemas in early 2010.
---

CLTCL a hit at KLPac
We were overwhelmed by the response to our 2-week run of Crazy Little Thing Called Love at The Kuala Lumpur Performing Arts Centre, where we performed to near capacity in our first week, and full houses in our second week! (There's Linora in the photo pointing to the "Sold Out" signs stuck on the KLPac box office door!) Taking our production into a mainstream theatre space provided us with the opportunity to reach a whole new arena of people, and it was truly encouraging to see the positive responses we were met with.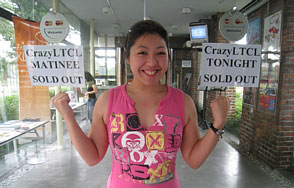 We are grateful to KLPac for their kind invitation to perform, and for venue sponsorship, as well as to Domino's Pizza, Pos Ad Group, Empowerment and Lite FM for their sponsorship and support in various ways; and Focus on the Family Malaysia for their partnership in this project.
---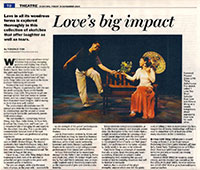 The Star reviews CLTCL
Click on the image for the full article.












---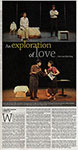 CLTCL reviewed in The Edge Financial Daily
Click on the image for the full article.










---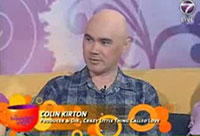 CLTCL featured on the ntv7 Breakfast Show
Footstool Players was invited to appear on the ntv7 Breakfast Show on 3 November 2008 to promote Crazy Little Thing Called Love. The Players were represented by Colin, Jon and Adrene, in a 15-minute segment hosted by Jonathan Putra ("JP"). For all of us, in spite of having done lots of "live" theatre, it was our first time doing "live" television, which doesn't afford you the luxury of re-takes!
---

Colin interviewed by The Edge Options
Click on the image for the full article.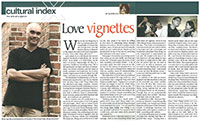 ---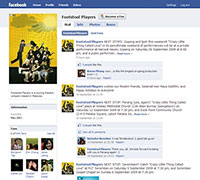 Footstool Players now on Facebook!
We're now on Facebook! If you're a "Facebooker", do visit our page and add yourself as a "fan" so you can be kept informed on what's happening with us.





---
Desmond and Dorothy tie the nuptial knot
After a romance which was seeded some 13 years ago, Des and Choo (as they are fondly known) were finally united in holy matrimony on 2 August 2008. Graced by many relatives and friends from all over the world, the wedding was coloured by heartfelt moments and endearing performances from friends and family alike, as well as the bridal couple themselves.

Both Des and Choo were part of the team for Runaway Bride and Walk His Trail. Having decided to go on sabbatical from Footstool Players to focus on their marriage, their energy and zest are sorely missed. We wish them a wonderful and exciting journey together.
---

Back in the studio for CBE's The Gospel
After our previous involvement with Pristine World's ongoing multimedia project, The Children's Bible Explorer, a number of the Players returned to the studio in June 2008 to lend our voices to the latest installments in the series: The Gospel, Volumes 1 and 2. Colin, Soon Wei, Ann, Rudi, Linora, Adrene, Dorothy and Jon were all roped in to voice many of the 56 characters in the stories! Needless to say, the recording sessions were incredibly fun and crazy!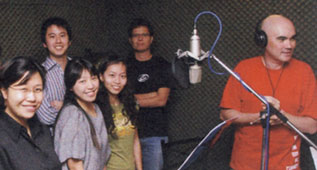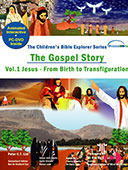 The Children's Bible Explorer series comes with a beautifully illustrated book and an interactive animation-filled CD-ROM which kids can use on their PCs to discover the Bible for themselves. In 2005, two volumes of Genesis were completed, and Exodus released in October 2007. Volume 1 of The Gospel is scheduled for release in November 2008, while Volume 2 will be released in July 2009.

The CBE series is available from Evangel and Glad Sounds bookstores. For more information, visit www.pristine-world.com.
---

Adrene gets married on Election Day
Adrene tied the knot with her long-term sweetheart Jason Tong on Election Day! Dressed in her bridal outfit, Adrene cast her vote and promptly headed to church for the wedding, but not before a Star reporter had grabbed her for an interview. Read the report here! We wish Adrene and Jason all the best in their married life.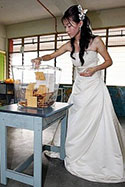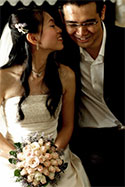 ---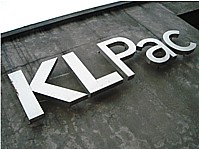 Footstool Players to perform in KLPac
We are very grateful to the Kuala Lumpur Performing Arts Centre (KLPac) for their very kind invitation to perform our upcoming production Crazy Little Thing Called Love at KLPac's Pentas 2 in November 2008. For more details, please refer to Current Productions.
---

Footstool Players takes a sabbatical for 2007
Footstool Players is on break this year!

Every few years, we make it a point to take a year off. It helps to refresh us and provide opportunities for us to be involved in other things, especially in our home churches, who have so kindly released us to be involved in the Footstool Players ministry, which often takes us away from our home churches as we travel to perform on weekends 3-5 months of the year.
---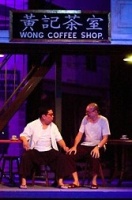 Colin nominated for a BOH Cameronian Arts Award
Colin was delighted to be nominated for a "Cammy" at the recent BOH Cameronian Arts Awards for his role in last year's production of Broken Bridges – The Musical at the KL Performing Arts Centre. Colin played the role of Wong, strict conservative Chinese small-town coffee-shop owner in the late 1950s, who has relationship struggles with his son Ming (played by Douglas Lim).

Colin will be back on "the big stage" in mid-October, playing Hongkong media mogul Sir Run Run Shaw (of Shaw Brothers fame) at Istana Budaya in P Ramlee - The Musical, headlined by Sean Ghazi, Liza Hanim, Melissa Saila and Datuk Siti Nurhaliza. This time around, Douglas Lim will be playing Colin's older brother! That's theatre for you!
---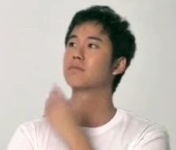 Footstool Players' very own "Brylcreem Boy"!
Some of you may have noticed Soon Wei's popping up in various print ads and TV ads recently. But did you know he's the new "Brylcreem Boy"? Check out his alter-ego Soh Hem Sem at www.sohhemsem.com – and we dare you: go mess his hair up; we know you wanna!
---

Adrene joins FES as a staffworker
Performing in last year's Walk His Trail left such an indelible impact on Adrene that she made the decision to leave her music career and join the Fellowship of Evangelical Students (FES) as a staffworker in January 2007.

FES is the Malaysian arm of Inter-Varsity Christian Fellowship, which works among students in tertiary educational institutions.

Do pray for Adrene as she adjusts to her new sphere of service and that the Lord will continue to use her for his purposes.
---

Footstool Players voice the Children's Bible Explorer series
Pristine World recently launched a new multimedia project to bring the Bible to life for older children. The package, called the Children's Bible Explorer series, comes with a beautifully illustrated book and an interactive animation-filled CD-ROM which kids can use on their PCs to discover the Bible for themselves.

Some of the Footstool Players team were involved in voicing the CD-ROM, as narrators and characters in the stories. Last year, two volumes of Genesis were completed, and work began this year on Exodus, which is scheduled to be released in October 2007.

The CBE series is available from Evangel and Glad Sounds bookstores. For more information, visit www.pristine-world.com.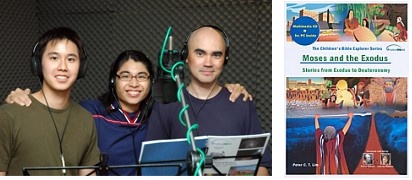 ---

Footstool Players hosts workshops with Bruce Kuhn
Acclaimed Broadway actor Bruce Kuhn was in town recently for a performance run of his one-man show The Gospel According to St Luke at the Actors Studio Bangsar.

Footstool Players was honoured to host two half-day workshops by Bruce on "Storytelling the Scriptures". One was specifically for the Footstool Players team and the other was for the general public. More than 50 people representing over 20 churches turned up for the second workshop.
---

NECF interviews Colin on "Art for God's Sake"
The National Evangelical Christian Fellowship of Malaysia recently interviewed Colin on the arts in church and society. The interview, titled Art for God's Sake, was also included in their book A Spiritual Healthcheck of the Church in Malaysia. You can read an online edition of the interview at:

www.necf.org.my/newsmaster.cfm?&menuid=12&action=view&retrieveid=773
---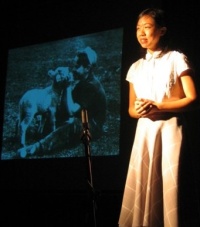 OM Malaysia partners with Footstool Players for "Walk His Trail"
Walk His Trail, Footstool Players' 2006 production, saw Footstool Players partnering with missions organisation OM Malaysia as a 50th anniversary tribute to Jim Elliot and his fellow missionary martyrs, and their legacy; and as a missions awareness platform to encourage the Malaysian Church to greater involvement in the work of missions in the world today.The powerful story of Jim and his friends continued to impact lives through this dramatisation taken mostly from the men's journals. More than 450 people stood after the 16 performances to make public commitments to God. Some of these were specifically commitments to missions involvement while others were to a more steadfast discipleship in some area of life.

Walk His Trail was performed over eight weekends between September and November 2006 in eight geographical zones throughout Malaysia (Penang, Ipoh, Seremban, Melaka, Klang, Subang Jaya, Petaling Jaya and Cheras), with two performances in each zone. We are grateful to the churches and individuals who sponsored the performance venues.

Jonathan and Geraldine returned to the team, and new team members representing seven different churches between them, made up the rest of the cast.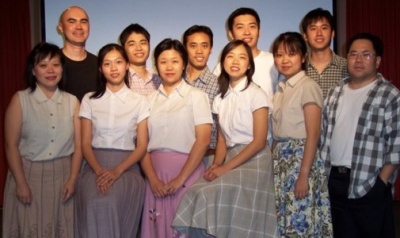 ---

Changing of the guard!
2005 has been a year of major transition in Footstool Players. After four years of serving with Footstool Players, Sean, Jonathan and Geraldine have stepped down from acting, as has Jennifer, who has been our efficient stage manager. Jon and Geri have taken on other areas of service in their church, which keep them from being able to tour with Footstool Players on weekends. Jon will however still be helping out with directing in our upcoming production, Runaway Bride.

Our trusty lighting manager, Benjamin, will also be taking a break this year as his industrial training will be conducted in Thailand and clashes with our performing season.

The new acting team comprises Colin, Ee Soon Wei, Adrene Wong and Dorothy Lee. (Find out more about them under The team.) Stage management is being shared by the actors and Lee Hwok Chuen, who will be assisting us during the rehearsal period before his departure to USA for further studies in August.


---

Footstool Players hosts "Thomas: Confessions of a Doubter"


Footstool Players was privileged to host Randall Wiebe's one-man performance of Thomas: Confessions of a Doubter for a limited run over the Easter 2005 season. Randall has performed Thomas over a hundred times in Canada and the United States. Malaysia is the show's Asian debut.

Randall arrived from Canada smitten with a flu bug and a rasping cough, but by God's grace managed to handle 17 performances across 3 states in 19 days! God is indeed faithful!

For more information on Thomas, refer to Past Productions, or Randall's website at www.thomasdoubter.com.

---

Focus on the Family Malaysia enlists dramatic support from Footstool Players


It was an honour to be able to provide dramatic support for Focus on the Family Malaysia for their marriage enrichment workshops and seminars across Malaysia throughout 2004, many of these being conducted in collaboration with the Malaysian government's Ministry of Women, Family and Community Development. We presented a set of sketches that raised issues with regard to family life. More information about Marriage on the Run and The Ledger People is available under Past productions.
---
"Bridge of Blood" unites talent from 4 churches
As a means of providing a hands-on learning experience in staging a full-length play for some involved in leading the drama ministry in other churches, Colin produced and directed Bridge of Blood in March/April 2003 for a limited run in three churches. Bridge of Blood is a 70-minute theatrical adaptation of the lives and legacy of Jim Elliot, Pete Fleming, Ed McCully, Nate Saint and Roger Youderian, who were martyred trying to reach the savage Auca/Hoarani Indians in Ecuador in 1956, based on Elisabeth Elliot's books, "Through Gates of Splendour" and "Shadow of the Almighty".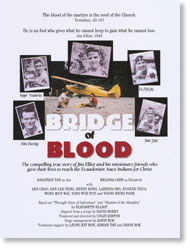 The cast and crew were from Subang Jaya Gospel Centre, Petaling Jaya Gospel Hall, Setapak Gospel Centre and Melawati Gospel Centre. We had a really good time working together in spite of our diverse backgrounds, and the Lord really blew us away with the response to the play, not just in the crowds who turned up (at one performance, the hall was more than packed, with about 30-40 being turned away at the door because they couldn't get in!), but spiritually too, as we watched in humble awe at how the Lord took the message of Bridge of Blood and used it to challenge, encourage and bless lives.

Jon was also involved, playing the role of Jim Elliot, and has personally testified to how playing this role greatly challenged him in his own walk with God.

We were not in a position to extend our run despite many invitations to perform, but God-willing, Colin is hoping to restage the production (perhaps under the umbrella of Footstool Players) in early 2006, to commemorate the 50th anniversary of the death of these great men of God. So watch this space!